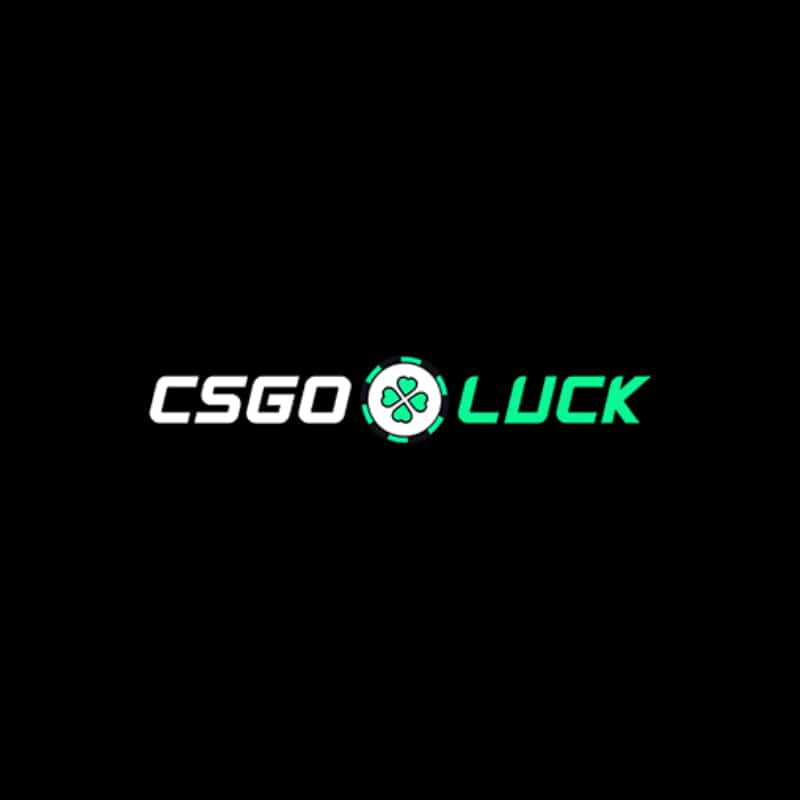 CSGOLuck
CSGOLuck was recently launched and they offer the most played CSGO gambling games. Along with their easy-to-navigate site, which comes with a clean look, you'll find a generous welcome bonus of 5 Free Cases.
Till casinot
T&C applies
18+ | New Players Only - T&C Apply
Pros
Quick signup
Great website layout
Solid welcome bonus
Live chat support
Provably fair games
Cons
Withdrawals only available through CSGO skins
About Casino
CSGOLuck is a CSGO gambling site that was very recently launched, in 2021. We've got information that the site has an experienced team of CSGO gambling enthusiasts behind it and has made quite the noise on our radars here at BestCSGOGambling since its launch. CSGOLuck offers one of the wider directories of CSGO-themed games that can currently be found on the market. They accept all of the relevant banking methods that a player usually wants to use. CSGO skins, FIAT money deposits (Visa/Mastercard), and cryptocurrency are the methods that they accept for banking. CSGOLuck also has one of the more generous welcome bonuses out of the CSGO gambling sites on our current list, giving new players 5 free cases when signing up. The darkish theme and general interface of the website are proof of the said experience. Being new on the market comes with a couple of questions though and we're going to be answering all of them within this review. Let us begin…
Quick Facts
CSGOLuck is owned and operated by KEKW gaming B.V and has a gaming license from Curacao. This is important in CSGOLuck's case since they are a new CSGO gambling site and the license adds to the legitimacy of the site.
When signing up you're required to enter personal details. Date of birth, full name, and address are what you need to enter before being able to deposit on the site and play in the casino. You can also link your steam account if you're going to be playing on the site with skins.
In the games section, we find a big directory of different CSGO-themed games. Crash, Wheel, Coinflip, Mines, Towers, Case opening and Case battles are the games that are being offered. More on these later in the review.
CSGOLuck offers many options for banking. You can deposit using your CSGO skins, with a Visa or Mastercard and they have also introduced the options for cryptocurrency transactions (Bitcoin, Bitcoin cash, Ethereum, and Litecoin). The currency that's deposited is converted into what is called "CSGOLuck coins" and one coin on the site is equal to 0.7$.
There is a leveling system on the site that grants you experience after you've wagered in a game. Leveling up your account comes with a couple of perks. For example, you can join the chat system that we find on the site once you've reached level 5. Your level will be displayed in the chat next to your name, as proof of experience on the site. The ranks range from bronze all the way up to ruby with the final level being emerald.
We find information in regards to many things that a player might have questions about throughout the site. You can find most of the relevant questions and answers in FAQ style lists. This is a great time saver for the player and the CSGO gambling site alike. Before contacting support make sure to read through this information as you'll most likely find the answer to your question here.
CSGOLuck offer 5 free cases to any new player that signs up through our link.
Games
Moving on to the more fun part of this review, the games section of the site. There are seven games offered throughout the site, with a couple of them being made to be more CSGO-themed, while others like "Crash" are casino games that have grown to become popular within casinos everywhere lately.
All of the games on the site are promised to be "Provably fair" which means the site guarantee that the outcome of each game or wager will be random and not be rigged in the site's favor. There are further in-depth explanations of the specifics of each game in regards to how its outcome is random at the bottom of the site if you navigate to the "Provably fair" section. Let us take a closer look into each of the games that are offered on CSGOLuck.
Crash
Crash might be the most popular game found within the gambling sector right now. Every site offers its own version of it, but the rules remain the same. Make a wager and watch the, in CSGOLucks case, spaceship take off. The spaceship is going to steadily ascend with the potential payout increasing over time. At one point the spaceship will, you guessed it, crash and thus leaving you without a payout. Your objective is to get out before this happens in order to secure a win. A game takes a couple of seconds and is totally addicting.  
Wheel
Wheel or more accurately "roulette" is another game that can be found on CSGOLuck. The rules are very similar to traditional roulette where you bet on red or black. In an effort to make the game more CSGO-themed, red and black have been swapped out for terrorists and counter-terrorists and they have also added a new option with the logo of CSGOLuck that payout 14x your bet. If you bet on T or CT and the wheel lands on your option you're getting paid 2x your bet.
Coinflip
Coinflip is another CSGO-themed game that can be found on CSGOLuck. Here you can challenge other players, or the house, to a coinflip on a wager of your desired size. You can also join someone else's game and challenge them for a wager of a size that they've set. 50/50 are going to be the odds of winning with the site taking a small percentage of each game as a fee.
Mines
Mines is a game that has been influenced by the traditional computer game "Minesweeper". Unfortunately, the skill aspect of the traditional game has been removed and you're basically just pressing random buttons in hopes of opening the ones that will give you a win. A little lackluster if we're being honest.  
Case Opening / Case Battles
Case opening is a spin on the regular case opening that you can do within the actual game Counter-strike: Global Offensive. At the same time as being similar it's completely different as the casino are the ones making the cases. They can virtually add anything they'd like to a case and make it cost anything from a couple of cents to hundreds of dollars. Decide the level of risk you're looking for and pop open a couple of cases. Very fun when compared to the traditional case opening.
The same cases that are available to open on the site can be battled for with another player in a "Case Battle". Choose a case that you want to battle for and get the chance to win your opponent's case as well. If you have trouble getting action from another player you can ask a bot to join the battle instead.
Mobile Casino
The desktop version of the website of CSGOLuck can be accessed through any mobile device as well. The interface has been scaled to fit the smaller screen and the same amount of games and functions are available here. There has been a revolution in this section and mobile versions are nowadays just as good as the desktop versions.
Banking
There are three main channels of banking found on CSGOLuck. These are:
CSGO skins

FIAT money (Visa cards or PayPal)

Cryptocurrencies (Bitcoin, Bitcoin cash, Ethereum and Litecoin)
The only one of these options that come with a fee on the transaction is if you decide to deposit using a credit card. In that case, there's a fixed fee of 0.25$ and a variable fee of up to 2.90% of the amount. Transactions are generally expected to be completed quickly but will differ depending on what method you've chosen. CSGO skins and cryptocurrencies are oftentimes the faster options.
Conclusion
CSGOLuck is a very new CSGO gambling site when comparing it to some of the household names like CSGOEmpire or CSGORoll. This doesn't, however, mean that they are not doing things as well as these. The interface of the site is slick and the dark theme is easy on the eyes. There's a lot of information spread throughout the site and this covers most questions a player would have. They offer seven games and some of them are CSGO-themed. For banking, you can use CSGO skins, FIAT money, and cryptocurrencies. The site is licensed in Curacao and its reputation is good. It's obvious that the people behind the site aren't on their first rodeo within the gambling sector. Most of the things that we look for when reviewing different CSGO gambling sites have been thought off and can be found on the site. The welcome bonus of five free cases to new players is one of the better welcome bonuses we can find right now. We deem CSGOLuck as one of the better sites CSGO gambling sites already and are looking forward to seeing how their story plays out in the future.
Casino Features
CSGOLuck was recently launched and they offer the most played CSGO gambling games. Along with their easy-to-navigate site, which comes with a clean look, you'll find a generous welcome bonus of 5 Free Cases.
Crash
Wheel
Coinflip
Jackpot
Case opening
Case battles
Many banking options (FIAT, CSGO skins and Cryptocurrencies)