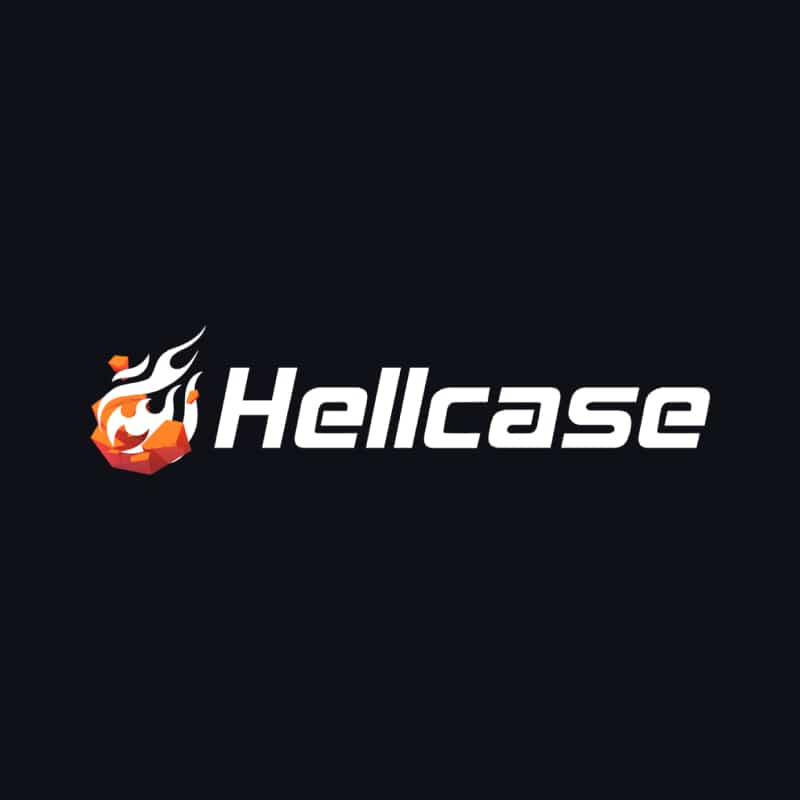 Hellcase
Craft and open the craziest loot boxes on the internet, compete with other players over who is the luckiest case opener or find out what other innovative games and competitions you can play that include loot boxes! All brought to you by the case-opening KING: Hellcase.
Till casinot
T&C applies
18+ | New Players Only - T&C Apply
Pros
Available in 13 different languages
Wide variety of cases to open
Good reputation
Works well on mobile
Cons
24/7 Live support only available for premium members
About Casino
The mother of all CSGO Gambling, Hellcase takes the in-game mini-game to the next level! Introduced with the launch of CSGO was the case opening mini-game. Where after completing a game, you had a chance to have a case drop, for which you could buy a key and open said case for a chance to get a rare cosmetic skin. A controversial topic, with many haters but also lovers. These lovers were noticed by Hellcase and they have since taken the case opening phenomenon forward, further than any other name in the industry to the point where they are untouchable as the number one case opening site, having one of the by far largest CSGO Gambling playerbase!
Introduction
Launched in 2016 in the aftermath of the CSGO boom the previous year, Hellcase saw the potential set by the case-opening popularity and expanding upon it; these particularities will be touched upon later in this review!
Now, speaking about the site itself, when entering for the first time can be a bit overwhelming. Cases left and right plus a constantly moving feed, basically what you are greeted with is their latest and most popular cases being advertised, and in lua of a global chat, Hellcase has implemented a feed showing players winnings in real time! Being the giant that they are and able to operate in such a large number of countries Hellcase offers their site in 13 different languages, leaving Hellcase a top contender as a site to call home!
Should you be a mobile gambler then Hellcase got you covered, their interface supports mobile use! Providing the same feel and experience as if in front of the computer, the interface is slightly scaled down and optimized for mobile and surf pads.
Games
You may ask yourself, what can you do with a case other than to open it and claim your reward? That is certainly what we thought before we indulged ourselves in Hellcase's gambling! 
Case opening
Speaking about the cases themselves, they literally have every case you could imagine! Where CSGO proper offers cases with a few high-prized items and a lot of low grade items Hellcase offers this as well as cases PACKED with high value items, they got boxes for all tastes with various price-tags. Maybe you are not satisfied with the 40+ boxes offered? No problem, Hellcase lets you design your own boxes and open, as mentioned, endless possibilities! 
Trade Up Contract
Similar to CSGO (the game) where you can convert 10x skins of the same quality into 1 skin of a higher quality Hellcase offers this service as well, but of course they take it to the next level by easing restrictions on what skins you can trade up!
Upgrade
Another Trade Up inspired function, should you be displeased with a skin-winning you can put it in the "Upgrade slot" and choose a skin that you want it to turn into. Using site balance you can increase the likelihood of getting the skin you want, hit the "Upgrade" and pray that luck is with you!
Case Battle
Opening cases can be thrilling but some players won't enjoy themselves if they don't get to compete versus other players, that is where Case Battle comes in handy! It's rather simple: between 2-4 people open one case respectively and the player with the highest value skin gets the whole pot!
Rewards and events
The more time and money you spend on the site, your account will rise in level, starting from 5$ per month for Silver going up to 25$ for Diamond. Each level gives you greater daily rewards and makes you eligible to earn event coins while playing, which can be used during site-promotions and events that Hellcase likes to hold!
In order to spice up the gaming Hellcase offers numerous special events throughout the year during which all players can earn special event coins while opening the more lucrative event chests that will give you the opportunity to buy the skins you failed to open through the cases!Another player favorite often introduced during special events is the popular game Wheel of Fortune, this doesn't happen often so keep your eyes open if you are a wheel fan!
Beyond the special event Hellcase holds their dedicated and loyal player base in special regard, offering exclusive 24/7 Live chat customer support, a ton of daily rewards and free giveaways based on your spending as well as giving players themselves the option to hold giveaways on the site, setting up missions and boxes for the participants to open in order to enter the giveaway!
Pricacy and registration
Registering on Hellcase is as easy as it gets, all you need is a Steam account! When it comes to privacy and security Hellcase is different from other CSGO gambling sites, unlike most casinos Hellcase does not operate under any license. This might seem strange and fraudulent to some people but after thorough research we have found no indication of bad practices from the site.
So why dont Hellcase operate under a license? There are actually many benefits to this, firstly Hellcase is able to operate without a license due to the fact that they deal purely in skins, any Fiat or crypto currencies you deposit on the site must be turned into skins on the site before you can use it as balance, they are in other words a "pure skin-gambling site".
What the lack of license means for the player is first and foremost lesser country restrictions, opening up the site to a wider audience. Secondly it lets the players use a VPN which hides their identity, making it safer for vulnerable people to gamble on their site!
Deposition and withdrawal
As we touched upon earlier Hellcase deals purely in skins. When you deposit to the site you can do so with both skins and Fiat currencies as well as crypto, note that the available options for deposition might vary depending on your country. Withdrawing of your winnings must be done in skins, which upon request will be sent to your Steam account through P2P trading. The speed of the withdrawal is as far as our experience and research tell very fast to instantaneous.
While skins both from CSGO and Dota2 are the main trading commodities for the site with Skinpay as an option, there are available means  for  deposit with fiat currencies and they are the following:
Credit Card (Visa, Mastercard, Amex, Discovery)
G2A Pay
WeChat
Skrill
UnionPay
If you want to use crypto currencies to deposit, the currently accepted are mainly the big ones such as BTC, BTH, ETH, LTC and USDT.
Support and Security
While lacking a license, Hellcase has a robust security system set up. For all their games they are using Provably Fair technology with easily accessible records,  ensuring that you can feel safe while gambling on Hellcase. The connection is a standard and secure SSL-encrypted one, which can be checked by clicking the padlock to the left of the web address in your browser.
Should you run into any problem Hellcase offers a few paths to get in contact with support. For regular customers you can submit a ticket to support, this method might take a little longer in order to get a response. For their Diamond customers (25$ per month) Hellcase offers up a 24/7 live support option, giving their big players faster and better support should they run into any problems.
Beyond these paths, Hellcase has social media accounts on platforms like Twitter, where you can correspond openly with the site. Before creating a ticket we advise you to look through the sites F.A.Q section to see if there is a common solution for your problem and also look through their Twitter feed as it is common for sites to showcase their chat logs regarding problems and solutions there for people to backtrack and use for themselves.
Conclusion
After playing and reviewing this behemoth of the industry we can only conclude that their spot is well deserved, with unique, fun and innovative ways to abstract their very own brand of gambling. A real CSGO gambling site in all sense, any CSGO player will easily understand and be able to get into the gaming and see the connections between their beloved game and the site!
Likewise any CSGO player will appreciate Hellcase for their enormous support for the competitive CSGO scene, where they have hosted countless tournaments throughout the years and keeps on doing so, giving back to the community which they rely upon, while losing sure isn't funny. It is a good feeling to know that some of it will go towards the team or player you like. Keeping the professional CSGO scene alive!
All in all, a reliable and fun site with a unique twist and personal touch when it comes to CSGO Gambling rocking a stellar interface that can support desktop as well as mobile devices with the greatest selection of language support in the industry it is clear to see why they are in the top 3 of popularity for CSGO Gambling!
Casino Features
Craft and open the craziest loot boxes on the internet, compete with other players over who is the luckiest case opener or find out what other innovative games and competitions you can play that include loot boxes! All brought to you by the case-opening KING: Hellcase.